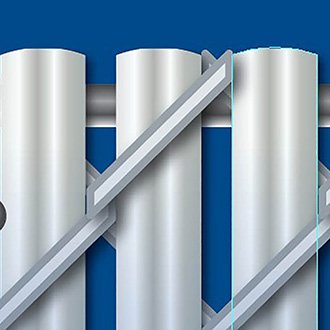 Chain link fence is one of the most popular fence types in the world... but it's not exactly private, so if you have it around your backyard, you're probably always aware of that.
Your backyard should be a sanctuary - and it can be, even if you can't afford a new fence! Here's what you need to know about privacy slats, and how they can transform your fence.
1. They Aren't All Created Equal
Just like every other kind of fence, fence privacy slats aren't all manufactured to the same standards. Cheaper brands are available out there, but they're made out of lower grade materials that will fade, crack and even disintegrate over time. Rite-Way Fencing only stocks the best quality north American made slats for this reason. Slats may not be the most expensive fence product, but you still want value for money and a good return on investment, so choose a reputable brand!
2. They Are Easy to Install
Privacy slats are one of the most DIY friendly fence materials out there. Most types of slats simply slip into chain link fence, and it's easy to install them yourself (or give the kids something worthwhile to do when they're bored!)
3. They're Sold In Bags
Privacy slats are sold in bags, usually enough to cover about ten feet of fence, or one standard section of a chain link fence. When you calculate the cost per foot based on that, it'll only cost a few dollars per foot to transform your chain link fence into a privacy fence!
4. They Offer Varying Types of Coverage
There are different types of slats, that offer different types of coverage. While we do stock most types of slats, and can order larger quantities on request, the standard Lite Link slats we supply via our online store offer 75% coverage.
5. They Come In a Variety of Heights
Privacy fence slats come in a variety of heights, ranging from as low as 3', up to 10' and even more. Our standard residential chain link slats in our online store, however, are available in 4'. 5' and 6', which are standard heights for most homes. Slats are pretty easy to cut though, so if you need a strange size for whatever reason, you could buy the next height and then trim as needed.
6. Available Online, from All Of Our Branches
Rite-Way Fencing has branches in Alberta, British Columbia, Saskatchewan and Ontario, and can supply privacy slats from all of our locations. Get in touch with your local representative, or purchase them in our
Interesting? Share it!