Like most of our Prairie branches, Rite-Way Fencing Calgary works well into the winter to complete fencing projects for our customers. One of those that recently required some interesting security fencing was the Airdrie Care Centre. Here's more about what they needed, and how we goet the job done right for them.
Airdrie Care Centre Fence Requirements
Airdrie Care Centre, like many of our clients, needed different fence types for different areas of their site.
In an area under some semi outdoor stairs, they needed higher security galvanized chain link to secure a storage area. Then there were two outdoor spaces that required different kinds of aesthetically pleasing fencing.
Chain Link Fencing Under Stairs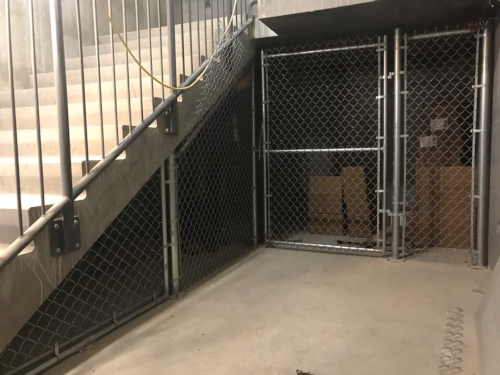 The Airdrie Care Centre had an area under their stairs that they needed to secure, and wanted to use for additional storage.
When we build fences like this, the entire construction process is customized to fit the space.
Custom baseplated posts are welded as needed, including offset baseplates to allow a snug fit alongside walls, and mesh has to be manually cut and twisted to fit the angle of the stairs exactly.
it's a labour intensive process, but the end result is an under stair area that is as secure as possible.
Horizontal Wood Fencing
Like most Rite-Way Fencing branches, our Calgary location rarely does wood fencing, but when we do, it's always for commercial clients.
In this case, the design called for a modern, horizontal fence design that was stained a darker shade. Our crews delivered what the client wanted perfectly, including matching vehicle gates to access the area.
If you are looking for a wood fence that has some modern flare, a horizontal style like this one is a great alternative, and provides the perfect semi privacy barrier for commercial spaces.
Ornamental Fencing
The last kind of fencing we had to install for the Airdrie Care Centre was ornamental fence, which we installed aroudn areas where visibility and security were both required.
The product chosen was an Ameristar system, and as Ameristar dealers, we were pleased to supply and install their high quality products around one of their patio areas.
Whatever You Need, Wherever You Need It
Many of our customers at Rite-Way Fencing need more than one kind of fence around their properties. Some areas need more security fencing, others need privacy fencing, and some need something in between.
Often, we have to install fencing in interesting places too. Whether that's a very remote oil field or industrial site, on a mountain or under your stairs, our crews can get it done.
So if you need a variety of fencing for different sites or parts of the same site, get in touch with your local Rite-Way Fencing branch, and let's get your site secured they way YOU need it done.
Interesting? Share it!